The Red Expert Alliance is an international  network of first-class Oracle consulting companies. We are  working together to deliver the maximum return on our customers investment in Oracle technology. We do this by collaborating, sharing and challenging each other to improve ourselves and our customers.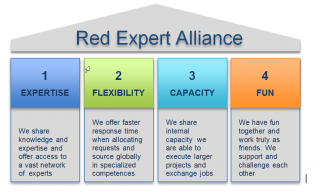 Collaborating with other companies is a powerful way to overcome challenges of today's fast-paced world and improve competitive advantage. Collaboration provides participants mutual benefits such as shared resources, shared expertise and enhanced creativity; it gives companies an opportunity to improve their performance and operations, achieving more flexibility thanks to shared expertise and higher capacity. Collaboration also fuels innovation by providing more diversity to the workplace which can result in better-suited solutions for customers.
Partnering in the alliance is beneficial for us and our customers since it makes us:
Better: Shared expertise, knowledge, access to experts and networks
Flexible: Fast response to allocation requests, short lead time
Stronger: Shared capacity and access to a larger pool of experts
More Fun: Fresh insights, opportunity to travel, cross-cultural awareness, networking with top experts worldwide.
Want to know more about the Red Expert Alliance?
Robbrecht van A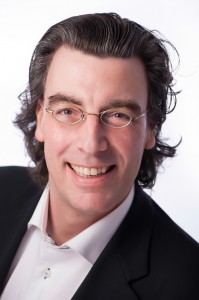 merongen, Initiator of the Red Expert Alliance: "In modern times it is impossible to know everything, knowing the right people is key. Being able to bridge gaps and connect people adds value to our network. I do not believe in large generic consulting forms stating expertise in almost everything. I believe in  a network specialized organizations collaborating and delivering the maximum of value to our customers. This network was my vision for creating this alliance."
You are welcome to contact me if you want to know more about this alliance.

Cell: +31 6 41010286
Robbrecht.van.amerongen@amis.nl